Meetings & Events
January Meeting & 98th Birthday Party
The last twelve months have flown by and we started our 2020 meetings with our 98th Birthday Party which was, as always a truly memorable event.
We celebrated with a roast beef or chicken dinner with cheesecake to follow. Our current President, Diane Clarke invited Lucy Hilton to cut the lovely birthday cake which was made by Sue Murtha and decorated by Kate Fenney, which we ate with tea or coffee to finish the meal.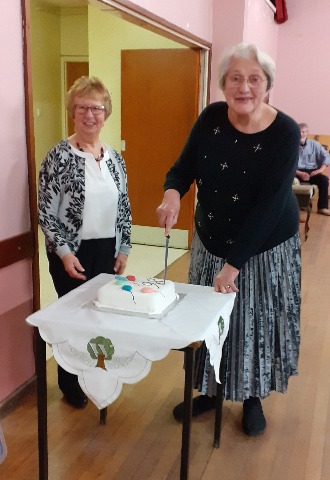 Andy Smith was to be our entertainment for the evening but due to a close family bereavement, he was unable to come. His friend Des Fraser stepped in at the last minute and we were not disappointed. He played his guitar for over an hour with a friend who was a drummer and we were treated to a selection of Country ballads and most of us were able to join in, albeit quietly in the background. It was as always a brilliant evening.
---
December Meeting
Life on a Traditional Farm/Farmhouse Cooking – Brenda Featherstone
What a welcome break this meeting was from the stress and chaos in the run-up to Christmas. Brenda told funny stories of life on a working farm whilst cooking some of her own recipes for us to sample. Brenda explained that farm life had become much tougher over the years and like many other farmers, she had had to find ways to diversify. Although very much a working farm, she puts on family shows at weekends and makes it a fun place to be especially for families with small children. She also has a variety of animals including pigs and goats that she talked about with great fondness; clearly they were more family pets than farm animals.
With the lovely smells of Port & Fig Chutney, Butternut Squash & Tomato Soup and Feta Cheese Tart with Leeks to name just a few items on the menu, we sat back and enjoyed the evening. Sampling the food at the end was of course an added bonus.
Wreath Making Workshop with Lucy Wiles.
There's nothing like the smell of pine, a bag full of Christmas 'bits' and good company to inspire you to be creative and find that 'Christmas spirit' and that's exactly what happened when nine members of Glenfield WI joined Lucy Wiles for a wreath making workshop at Park House in Glenfield.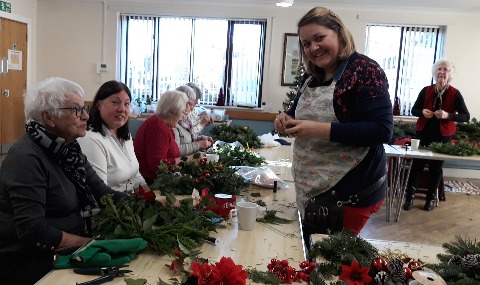 Lucy provided most of the materials and of course the encouragement to let those creative juices flow and the rest was up to the members. It's amazing what they produced in just a few hours don't you think and they clearly enjoyed every minute?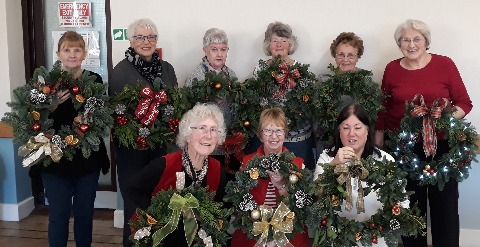 The Glenfield W.I. meets on the third Tuesday of the month in St. Peter's Church Centre @ 7.30pm. Look out for our posters on the notice boards around Glenfield to see what's happening next. Visitors are assured of a very warm welcome for a nominal fee of £3.00. Why not come and join us?
---
November 2019 Meeting - A Road to Aluminium Art with Matthew Warburton.
Matthew Warburton started his working life as a coach builder in the 1980s making body panels for vehicles at the high-end of the market and he was also a teacher for fifteen years, gaining valuable skills along the way.
With a mix of these skills, modern technology and his undeniable talent, Matthew went on to work more creatively with aluminium, producing unique and very beautiful products some of which he brought to our meeting.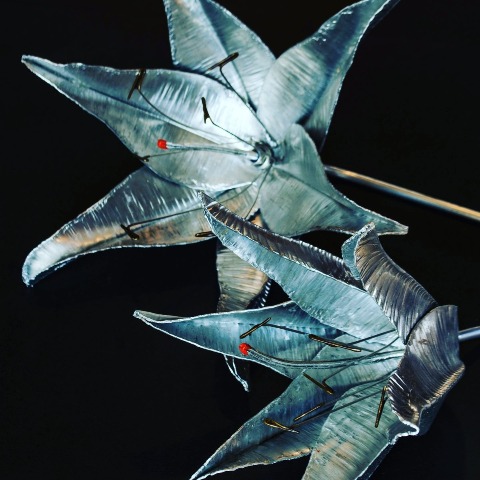 Matthew was easy to listen to and very interesting. He showed us how he beats the aluminium which causes it curve and he showed us samples of his butterflies and bracelets. At the end of his talk, members flocked to his display to have a closer look at all the products on offer and many were seen leaving with one of his beautiful butterflies. Matthew had also brought his young daughter Madeleine, who also has a flair for this art and many members bought her lovely Christmas tree decorations which she makes from tin cans.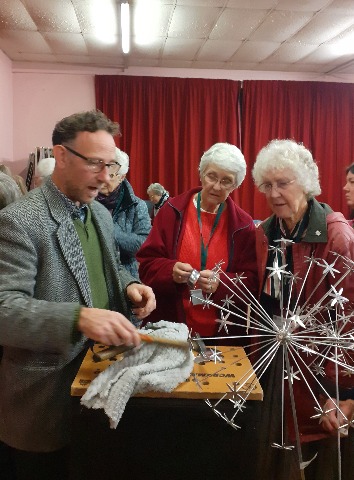 The Glenfield W.I. meets on the third Tuesday of the month in St. Peter's Church Centre @ 7.30pm. Look out for our posters on the notice boards around Glenfield to see what's happening next. Visitors are assured of a very warm welcome for a nominal fee of £3.00 so why not come and join us?
---
AGM - October 2019.
The President, Treasurer and Secretary presented their reports and after discussion, Auditors and Bursaries were unanimously approved by the members present.
Lucy Hilton stepped down as President after six years and our incoming President Diane Clarke presented her with flowers and on behalf of the members, thanked her for her hard work and dedication in the role.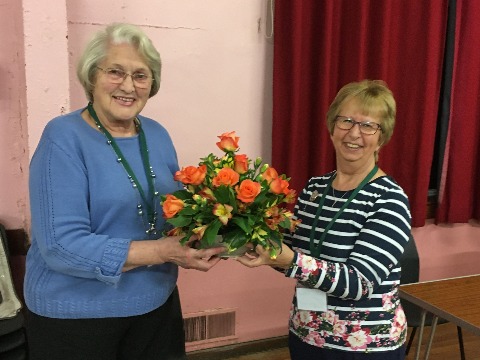 After the business was concluded, we rounded the evening off with a quiz which was mostly based on Glenfield although there was a photograph round and some very tricky mental arithmetic questions added for good measure. It was a thoroughly enjoyable evening.
---
September Meeting – 'Coco' Chanel, her enigmatic life by Julie Ede
We welcomed Julie Ede once again to our September meeting, this time talking about Coco Chanel.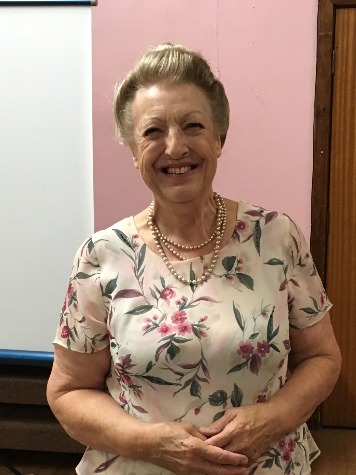 Born Gabrielle Bonheur Chanel in 1883 in a 'poorhouse', Coco was sent to live in an orphanage with her sisters by her father when her mother died. Determined to claw her way out of her very humble beginnings, she started designing hats and went on to produce jackets and sweaters. Determined to release women from inhibiting corsetry, she developed classic but easy to wear garments and her distinctive style lives on to this day. She's probably best known however for her perfumes, the most popular of which was and still is Chanel No. 5.
Coco Chanel used her most influential contacts to her best advantage, had many lovers and had strong associations with Winston Churchill, aristocrats such as the Duke of Westminster and royals including Edward, Prince of Wales. She died in 1971 aged 87 at the Hotel Ritz, where she had resided for more than 30 years.
We were absorbed by Coco Chanel's story as Julie Ede, a brilliant speaker, took us on a fascinating journey through her life.
---
Our August Meeting – 'Season of Mists & Mellow Fruitfulness' with Linda Colebourne.
We were treated to a delightful flower arranging demonstration by Linda Colebourne who although from a farming family, actually started her working life as a hairdresser. She admitted though that something closer to nature had always been her passion, so she turned to flower arranging, achieving her qualifications and ultimately becoming a demonstrator, teacher and judge.
Linda talked throughout about flowers and foliage as well as various ways of using alternatives to Oasis foam which take over eighty years to decompose. She was both easy to watch and listen to and by the end of the evening; she had created nine beautiful displays which were raffled to members and visitors alike.
---
July Meeting
Well a great time was had by all as they say but not quite as we had planned! Charles Hanson, famous antiques expert, was booked to entertain us at our annual 'open to all' meeting in July. Seventy members and guests were assembled, a huge array of cakes displayed and ready for later and there was a buzz of excitement in the hall……and then we received a call from a very upset and apologetic secretary to say that Charles was stuck filming elsewhere and would not be able to attend the event as planned!
There were about fifteen items on display and despite huge disappointment by this turn of events; people were invited to talk about their much treasured possessions. Undaunted, our brave members and guests entertained us with a brief history of each item and comments like "it was always there on Granny's sideboard" made it a thoroughly enjoyable evening.
In true WI style and despite the initial disappointment, there was plenty of friendly chat, tea, coffee and of course delicious cakes to round off what could have been a completely disastrous event.
---
June 2019 Meeting – 'Reflexology with Demonstration' with Rita Wilson & Liz Seal.
Rita and Liz explained that Reflexology is a technique of applying gentle pressure to parts of the body to relieve pain and anxiety. It's based on the theory that the feet and hands are thought to be connected directly to the rest of the body.
Although there is much evidence of massage across the world for many centuries, modern Reflexology was introduced by a doctor in America in the 1930s and since then, medical research has found that it is very effective in temporarily reducing blood pressure and heart rate and it's also thought to stimulate the immune system. Although the medical profession is sceptical about alternative therapies, GPs do recognise the benefits of Reflexology and recommend it to patients in some instances.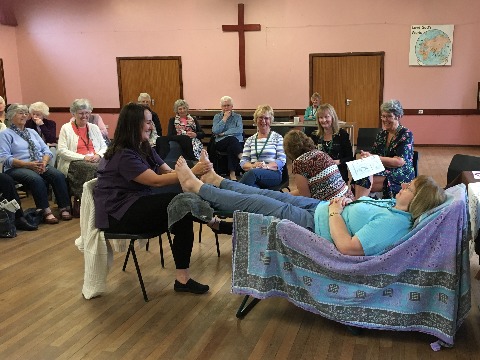 Despite the driving rain outside, a relaxed calm descended in the hall as we watched with some envy our very willing volunteer Sheila undergo a thorough foot massage and it is very likely that some of us will give Reflexology a try in the future.
---
May Meeting – Resolutions
We were joined by Astill Lodge WI to discuss this year's resolutions prior to the national annual meeting in June.
A call against the decline in local bus services
'Over the last decade there has been a massive decline in the number of bus services, particularly of those in rural and semi-rural areas. In order to alleviate loneliness, improve health and wellbeing, as well as promoting sustainable development, the NFWI calls on the government and local authorities to increase subsidies and work in partnership with bus companies and community transport operators to enable an adequate provision of services.'
Don't fear the smear
'Cervical screening saves around 5,000 lives a year, yet attendance is currently at its lowest for a decade. The NFWI urges WI members to attend routine screening, to take action to raise awareness of the importance of cervical screening and address barriers to attendance to help eradicate cervical cancer.'
Lucy Hilton and Diane Clarke opened discussions by outlining the relevant points to be considered. After much debate, both Resolutions were unanimously agreed by members who also gave a discretionary vote to the Delegate to use if necessary at the Annual Meeting and Val Lancaster thanked Lucy and Diane for their hard work in preparing for the debates. The evening closed with tea, coffee and chocolate biscuits which was very welcome after such thirsty work.
---
Glenfield's April Meeting – 'Recycling Waste' with Sally Butt.
Sally, an Environmental Waste Technician from Leicestershire County Council did a brilliant job explaining the sometimes very complicated subject of waste recycling despite the fact that she had stepped in at the last minute to be our guest speaker. It was apparent that although the rules vary from district to district, the basic principals are similar across the board.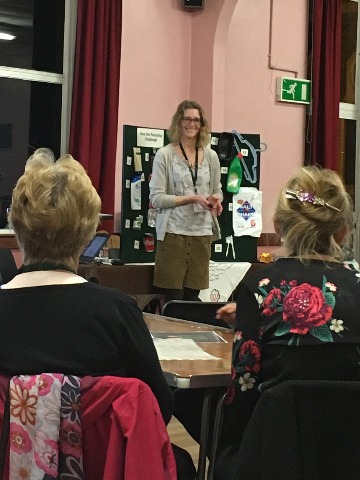 Sally went into some detail about garden waste and how it's composted, what goes to landfill which was very interesting but the majority of her talk concentrated on recycling. We had lists of items to discuss about what was suitable for recycling and what goes to landfill and although some of it was common sense we learnt a great deal also. She showed us how recycling plants work with the aid of clever technology but there will aways be a need for operators to hand sort some of the waste material. Sally also stressed the importance of washing items like food cans and bottles to prevent contamination of waste such as paper and card which is sold on for reprocessing.
It was a very good evening; we knew the basics, learnt a great deal and as usual had a laugh along the way.
---
Jo Golby, an historical tour guide at places such as Warwick Castle, Bosworth Battlefield and Calke Abbey thoroughly entertained us with her 'true tales' and we were laughing from the start.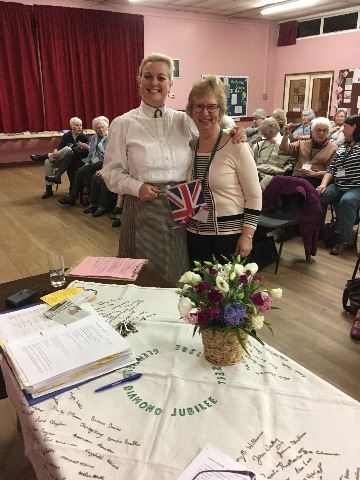 She has been at Warwick Castle for twenty years and with over 8,500 visitors a day and celebrities aplenty, she 'name dropped' unashamedly; Terry Wogan, Julie Walters and Fred Dibnah to name just a few but of course her favourite celebrity was The Queen.
The Queen's visit had been three years in the planning, the castle had been completely redecorated and the old cracked black plastic toilet seat had been replaced with a new mahogany one for Her Majesty's comfort (apparently the black one had a habit of pinching you when you sat down!). The day went well apart from the royal catering van colliding with the portcullis, knocking off the refrigeration unit and spoiling the Queen's desert. When the day ended, Jo was thrilled with the thought of having a new mahogany toilet seat in the now 'Royal Water Closet' only to find that it had been replaced with the old cracked one.
Jo was very funny and her tales included stories of naughty school children and having to climb to the top of Caesar's Tower with a Vulture on her arm to release it when given the order. Needless to say, things did not go according to plan and the vulture took off towards Stratford. We had a great evening and hope to see Jo again soon as she has lots more tales to tell.
---
The Annual Council Meeting on 9th March 2019 - The Monroe Cup
Three members from Glenfield decided to enter the Monroe Cup at the Federation Annual Council Meeting on behalf of the Park Group. It is a flower arranging competition and this year the theme was 'Romeo and Juliet'. Anne Wise, Edna Cobb and Angie Bowers, with creative juices flowing set to, to create a master plan. All too soon the day approached........
......but we were more than pleased with the results and thrilled to receive a 'Highly Commended' award for our efforts.
---
February Meeting - David Bell, Local Author – 'Leicestershire and Rutland Ghosts and Legends'
Local Author David Bell who had been a Primary School Teacher for thirty years, but gave it up at the age of fifty to write books, came to Glenfield to give us a very interesting talk about Leicestershire and Rutland Ghosts and Legends.
He told us about Jane Grey the 'Nine day Queen' who lived at Bradgate. It is said that on New Year's Eve, a coach and horses can be seen going through Newtown Linford but then disappears only to reappear nine days later at Bradgate House as if Jane Grey is going home.
He then went on to tell us about the infamous Witch, Black Annis who lived at Dane Hill and is reported to have had a blue face, one eye, and talons instead of hands, and who is said to have enjoyed snatching children and wearing their skins around her waist, she lived in a cave which she is said to have carved out herself and that it goes straight to Leicester Castle.
Another story was about Bottesford Church where a monument to the 6th Earl of Rutland can be seen stating 'in 1608 he married Lady Cecila Hungerford by whom he had 2 sons both of which died in their infancy by wicked practice and sorcery', a very unusual reference to witchcraft in a church. A local woman named Joan Flower was said to be a witch and caused the boys deaths. Witches would be put in the local pond or lake, if you floated, that was the devil keeping you up, so they hung you as a witch. If you sank however and drowned, you were innocent. Not a good outcome either way!
Many other grisly and fascinating stories were told of witches and ghosts based in the area, all very interesting if a little unnerving.
---
---
Our January 2019 Meeting and 97th Birthday Party
We celebrated the New Year and our 97th birthday in true style. The evening started with a lovely meal which was provided by Joe Breward and June was invited to join Lucy to cut our birthday cake. Our thanks must go to Sue Murtha who baked the cake; it was absolutely delicious as usual.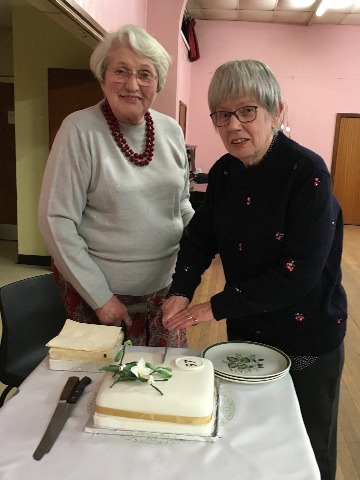 We welcomed David Moylan who provided the entertainment. His Ukulele and Guitar playing, magic tricks and silly jokes had us all laughing from the start and it was the perfect way to end a lovely evening. After all, with great friends, good food and brilliant entertainment, how could it possibly be anything else but a lovely evening?
---
'The Chocolate Man', Tom Phillips
What a brilliant way to enjoy our Christmas meeting; Tom Phillips gave us a talk on all things chocolate and there was plenty for us to try and buy. He explained where cocoa beans were grown and the various colours of chocolate from dark to milk and the more recent rose colour and also the processes for making chocolate from the pod to the final product we all know so well. Also that most of the world's chocolate is produced by Belgium and France but it was the Swiss that developed milk chocolate.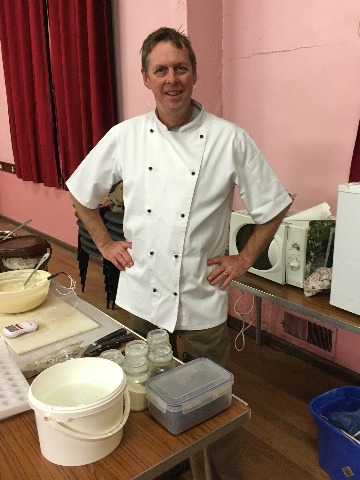 It was through his talk that he made a snowman for us to raffle and chocolates for us to try at the end. With the hall full of chocolate smells, it really was a great Christmas meeting.
---
"The World of Mother of Pearl' by George Hook.
George, described by the Birmingham Post as 'The Pearly King of the Black Country', both entertained and informed us as guest speaker at our September meeting. He is the managing director of his company which was founded by his Grandfather in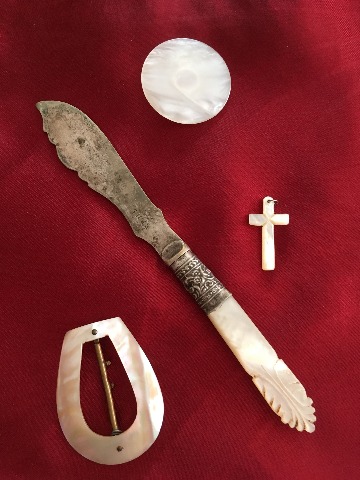 Birmingham in 1824 and is a third generation Master Pearl Worker (and today the sole worker) of probably the last remaining Mother of Pearl company in the UK. He makes items including buttons, cutlery handles, spoons, furniture inlays, buckles and hair slides and he brought some lovely samples to show us. In days gone by, even the Pearly Kings and Queens of London got their buttons from Birmingham (the photo shows a collection of old Mother of Pearl items courtesy of Anne Wise).
George showed us the types of shells which can be used, although only that made from oyster shells can truly be termed Mother of Pearl which is formed by a layer of, in simple terms, solidified spit.
George still makes bespoke items of jewellery etc. and is passionate about his industry which has been in decline for years due to cheap plastic imitations. What a shame that there's no-one with his skills to carrying on.
---
'Watching the English' by Sue Tonks
Prosecco, strawberries, cream and shortbread was on the menu for our July meeting with a large helping of Sue Tonks, our guest speaker for the evening.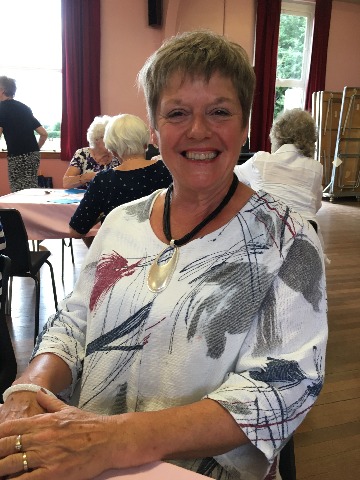 Sue, a magistrate, business woman and avid 'people watcher' was brimming with confidence as she talked us through everyday situations in such a way that she had us laughing from the start. Sharing a lift with strangers but not making eye contact, catching the eye of bar staff in a pub with body language whilst waving a ten pound note or simply queuing at a bus stop were things we had all done many times but they had never sounded so funny because as she explained, we do all these things in a very 'British way.'
Sue suggested that the majority of conversations with strangers start with a comment about the weather and when you think about it, it's quite true and also very British!
Sue had many very funny stories to tell; she was very animated and hilarious throughout. Next time we find ourselves queuing at a bus stop or sharing a lift with strangers, I'm sure we'll remember our evening and smile. We hope to see Sue again very soon.
---
They do say that there's nothing like a bit of retail therapy to brighten your day and that's exactly what we did one Monday in April. Twenty of us boarded a coach outside the Memorial Hall and travelled to Boundary Mill in Grantham.
We were welcomed by a member of staff when we arrived and were given vouchers for free drinks and extra discounts in the store.
We thoroughly enjoyed the day and thank Anne Wise for organising yet another very successful outing.
---
'There's more to Tea than a Bag in a Mug' by Anna Stasinska.
Anna, a designer by trade is clearly very passionate about tea, which is why she's based at the 'Old Brickyard Tea Garden' near Melton Mowbray. Her talk was both fascinating and informative. All over the world, tea is still picked by hand and traditionally by women. Tea was such a valuable commodity many centuries ago, that it was used as a currency.
Did you know that the UK consumes 165,000,000 cups of tea a day, third in the world after Turkey and Ireland? Anna even has two tea bushes in her 'secret garden' which produce young tender shoots and small perfectly formed white flowers from Spring onwards.
'Afternoon tea' was unwittingly created by the 7th Duchess of Bedford in around 1840, who whilst staying at Belvoir Castle, requested tea and sandwiches at 4 in the afternoon and as they say, the rest is history.
With the kettle boiled, Anna infused five different teas from Chamomile to Darjeeling and Green tea to 'Royal Afternoon' and we waited with tasting spoons at the ready and not a grain of sugar or drop of milk was in sight! There was no spitting but much swallowing at the 'tea tasting' and it proved to be a new experience as we had learnt the finer points of this once valuable commodity.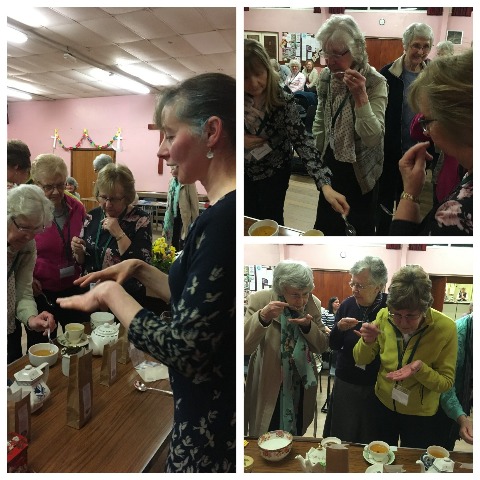 ---