DENMAN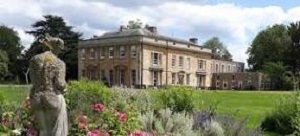 Denman, formally Denman College, is a residential adult education college centred on Marcham Park at Marcham in the English county of Oxfordshire. Founded by the National Federation of Women's Institutes in 1948, Denman offers day schools and residential courses in cookery, craft and lifestyle
---
Your Denman Ambassador
Clare Robertson Smith is your new Denman Ambassador. Please contact Clare if you have any queries about booking courses, offering or applying for bursaries, help with transport costs or arranging group visits. Clare is happy to visit your WI or Group meeting to tell your members all about Denman and what it has to offer. The fee for this talk is £20 plus travel. Contact Clare at clarerobertsonsmith@lrfwi.org or leave a message at WI House on 0116 266 1342.
---
Denman News
Clare Robertson Smith, Denman Ambassador
You will have heard by now that Denman is still closed and that our Denman Federation Weekend has been cancelled. As soon as Denman reopens I will try to reschedule our Weekend for sometime in 2021, though there may be changes to the courses available.
In the meantime we can support Denman by taking part in their online courses. Just go to denman.org.uk/whats-on and choose from the different Lifestyle, Craft and Cookery courses on offer. The courses cost £5, last up to 2 hours and are streamed on Zoom – you will be sent joining instructions after booking, and if you choose a cookery course you'll receive the recipes so that you can cook along with the tutor.
Like Denman, the courses are open to everyone so spread the word to family and friends and you might spot them taking part! Every little helps until the doors of Denman can reopen.
Please contact me on clarerobertsonsmith@lrfwi.org if I can help.
Clare
01455 202499
---
TRANSPORT TO DENMAN
If you are booked to go to Denman College but are having some difficulty with transport, then please ask our Denman Ambassador, Clare Robinson Smith, for some help by either ringing WI House: 0116 2661342, or emailing clarerobertsonsmith@lrfwi.org.uk asking Clare to get in touch because she may be able to organise a lift for you. Clare will also help if you have any questions or problems involving Denman, so do get in touch with her if you need to do so.
---
Booking online made easy
Did you know you can now search our courses and events using our improved search facility? Simply select the dates you'd like to come to Denman and a whole list of options to choose from will be presented. You can even see how many spaces are available on each.
Start your search here...
I have just come back from a wonderful weekend away at Denman with my friend Sue Hurst who won a Denman Bursary at our local WI (Hinckley Canalside). We used our personal bursary wins and added some of our own money to buy a 2 night course in Freehand Machine Embroidery tutored by Claire Muir Textile Artist.
There were 7 students on the course, all WI members that came to Denman from around the country - Cornwall, Herefordshire, Cambridgeshire, Northumberland and Leicestershire. We studied a variety of techniques involving our own sewing machines and how to adapt them to do freehand machine embroidery but it was possible to borrow a machine from Denman if needed.
Claire provided access to all of her resources for a nominal fee of £4 so we got a chance to work with a variety of threads, beads, organza, silk and natural wool fibres. We learnt how to draw with our needle and even had a go at using a soldering iron to cut organza in order to sew onto our samplers of work.
I would recommend the course to anyone who has an interest in exploring what a standard sewing machine can do in terms of embroidery.
The Denman experience was new for both myself and my friend Sue Hurst and I think it's fair to say we were very impressed with the quality and amount of food we were offered. There was tea and coffee making facilities available at all times and we had morning biscuits and afternoon cakes too.
The bar area was closed to us for a private party but we were given complementary drinks by the waiter service offered to compensate for any inconvenience.
We both had a good rummage in the Faberdashery shop selling donated items of crafting supplies!
We were both impressed and are hoping to go back again in the future.
Best wishes and thank you for the opportunity to experience Denman.
---
The end of the WI year is fast approaching so I thought it really was time for me to reminisce about the wonderful visit to the canals of London in August after winning an amazing £200 in the Denman dip raffle at the ACM back in March.
After a long perusal of the amazing courses at Denman College that we're available to me I decided upon a weekend spent partly at the college but with a full day in London.
After arriving on Friday afternoon, settling in with tea and cake we were introduced to our course leader Peter Lawrence a former senior police officer whose knowledge in all things London is unsurpassed. Dinner having been served an informal talk gave us insight on what to what to expect on Saturday.
After an early start what a day it turned out to be, not only was the weather glorious and the company great, we walked part of the Regents canal, visited the canal museum saw Little Venice with its wealth of permanent moorings and canal side gardens, saw the regenerated Coal Drops Hole and had lunch at Camden Lock. Peter of course giving an amazing dialogue to the history and changes within the whole area.
I came home on Sunday having had an exhilarating weekend learning new things and making new friends.
Wendy Taylor
Queniborough W.I
---