Report from Meetings
2019
Illston on the Hill WI held their AGM in December. All officers and committee members agreed to stand again, other than Hazel, who has decided to retire from the committee. However she will still remain a member and will also run our competitions. Hazel has been a valued committee member for many years and has put a great deal of work into the WI. We will miss her input at events and committee meetings, but she will be spending more time with her family and training her wonderful dogs. Good luck Hazel and many, many thanks from all of us at Illston WI.
The programme for 2020 was distributed and there are lots of events and speakers to look forward to.
This was followed by our Christmas meal which was a huge success, lots of lovely food and lively chat. So lovely to spend the evening in such good company.
Our next meeting is making beautiful paper flowers – workshop being run by Hazel – see she is too valuable to lose.
As a result of the success of our Christmas coffee morning in late November, we were able to donate £200 to the Open Hands Compassion Centre for vulnerable, disadvantaged and homeless people. Thank you for all who supported this event.
Wishing you all a very happy and healthy New Year
---
At our November meeting Illston on the Hill WI sought the talents of one of our own. Sue Welch created a workshop for making crackers. First you need two tins (of the baked beans variety but both the same size), then some quality Christmas wrapping paper, bows, ribbons, stickers, and most important of all, a gift. The tins were covered in wrapping paper, nipped in at the ends and a piece of covered thin card stuck over the other end of one tins in order that the other tin could be slotted into it – after first including the gift, then the finished item was decorated…………are you still with me? Perhaps you needed to watch Sue. The results were very…..well, interesting!! It is a tonic to attend WI and join together with our crafts, some are g
ood, some are excellent and some are, well you can imagine!!! Whatever the result, we all had a great time and fortunately can laugh at ourselves as well as with the others.
Last week four of us from Illston joined with other members of the Group on a trip to see the light and laser display at Kew Gardens, after a fairly tedious journey we arrived to see the magic. The lights were all music co-ordinated and the displays were absolutely magnificent, it would be wrong of me to try and describe the wonders of Kew – they need to be seen in person.
Later this month we have our AGM and supper, so certainly getting into the festive season. May Illston WI wish all your readers a very Happy Christmas and thank you for taking the time to read our reports.
---
---
Illston on the Hill WI put their skills to painting and decorating pottery supplied by Polka Dot Pottery. We all selected an item – from mugs, to penguins to frogs and more. Upon completion these were taken back to Polka Dot HQ for firing – we look forward to receiving the finished article very soon. It was a really good evening, lots of fun being poked at the designs and colours – well I ask you, who has every seen a pink cow???
A group of us took part in a guided walk around Leicester, this was so interesting and we saw so many things we had not seen before. I won't bore you with all the architecture, styles and dates, but I would ask who has seen the trains on the (former)
Thomas Cook building? When next in Gallowtree Gate, just look up and you will be amazed.
Don't forget our annual Coffee Morning on Saturday November 23rd. 1000 – 1300 in Illston Village Hall. There will be lots of stalls and the very special Illston Bacon Butties. Everyone will be welcome. Look forward to seeing you.
---
Illston on the Hill WI have not been idle during the summer months. In June we invited all members of the High Leicestershire Group to join us in a "starters and puddings" night. Each lady brought either a starter or a pudding – together with the recipe (so if we liked it we could make it at home!). This was hugely successful and we had a record turn out. Normally we sit in meetings with our colleagues, but this was a real tonic as it was purely a social evening.
In July we enjoyed a garden party and supper at one of our member's homes. Fortunately the weather was reasonably kind – it did start to drizzle about 9.30, but we all crammed into the lounge to continue our evening. It is surprising how many different dishes turn up when it is not really organised. Lovely evening.
We also enjoyed a meal at the local pub in Billesdon, most members attended, it does seem that we eat a lot!! Maybe we should have a speaker on diets next time!!!
For the Illston fete at the end of August, we were asked to decorate the church with flower arrangements, we took the theme of "an English country garden". Each windowsill was beautifully decorated with an afternoon tea, kiddies garden with bug houses etc. gardening themes with watering cans, gardening implements, wheelbarrows and lovely plant pots. We should have taken some photographs!!! How easy to be wise after the event.
Our September meeting was a presentation by David Bell on "Murder Cases in Leicestershire". He has so much information under his belt it was quite a fascinating talk. He outlined the "Green Bicycle Murder" which of course happened very close to home, in fact several of our members have relatives of some of those involved in this case. We also learned more of the details of the Narborough murders of two young girls. This of course is a much more recent case and DNA played a really large part in the discovery of the offender.
We are holding our annual Coffee Morning on Saturday November 23rd. 1000 – 1300 in Illston Village Hall. We will have lots of stalls, including plants, dried flowers, cards, tombola, cakes, candles and The Body Shop, Master Bee Keeper and much more, including the very special Illston Bacon Butties. Everyone will be welcome. Look forward to seeing you.
---
In order to blow away those extra pounds put on over Christmas, Illston on the Hill WI arranged an in house skittles competition for our first meeting of the year. This was an absolute hoot – the skittles are quite large, the gaps are not so large, but still the wretched bowl goes through the middle!! How does that happen? Actually if not through the middle certainly off course to the sides! Rhena was our hands down champion by some way, so congratulations. Photo attached showing the encouragement! (or otherwise).
We always have a competition and each year it is a different theme, either a coloured item, an item beginning with a specific letter, etc. This year the committee came up with a different idea; materials. So January was paper, February is silk…and so on.
This actually brought up some really original ideas from members. Hazel was our winner – much deserved as she arranged the skittles match.
Our next meeting is belly dancing, so will up update you next month!!
Jane Shute
26.01.2018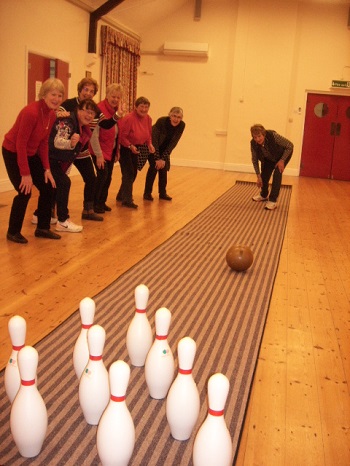 Reports from Meetings
Illston's 95 birthday
Report from meeting 14.11.15