Reports from Meetings
2019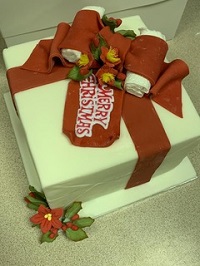 Our Gilmorton ladies welcomed Becky Watkins from 'Cook Bake Decorate' in Lutterworth to the
December meeting.
She was there to help us 'glam up our Christmas cakes' and started with the question, 'Who uses the same plastic decorations every year?' When half the ladies in the room put their hands up she knew she had some work to do! But she had ideas for both round and square cakes.
Becky showed us simple icing techniques using butter cream, royal icing and fondant icing, including decorating the board as well as the cake. She then moved onto modelling paste to make a bow.
We also learnt Becky's best kept secret – Vodka is always the answer! When you make a mistake with colours you can clean the surface of icing with vodka and no-one will ever know.
---
REPORT FROM MEETINGS
Chocolate lovers from Gilmorton W.I. were treated to a demonstration of 'Working with Chocolate' by Tom Phillips from Hannah's in Quorn. He started by telling us about the varieties of cocoa trees growing along the Equator which all have slightly different tastes. Cocoa butter is squeezed from the beans and cocoa powder is made from the pulp. Varying combinations of these, together with sugar, vanilla and milk powder then give us white, milk or dark chocolate.
Tom showed us how to create hand-made chocolates in moulds and a lovely model of a snowman. The trays of chocolates were passed around the room for everyone to sample. We all appreciated both the smell and taste of his chocolate!
Anne Fitzsimons
Gilmorton W.I.
6/12/2015