Reports and Photos
2020
Breedon on the Hill monthly report -Jan. 29th 2020
One Mans Junk. - "What ever could this be?" Our guest speaker Tony Ward kept us puzzling and discussing and giggling about the variety of antique items he'd brought in to show and talk about.
We'd divided into small groups to handle all 10 items provided. The idea was to say what they were ; what was their age ; what was their present value. We handled them, passed them round, bemused and puzzled and in most cases, had an inspired guess! It kept us very entertained.
Tony then explained their proper name, value and age of each item to many calls of "got that right" and "told you it was one of those.' All great fun. We laughed and we learnt.
The evening competition was " An unusual domestic item " (everyone has one of those somewhere in their home) A Victorian green been slicer won the competition.
Hostesses were Claire Philipson and Jo Yates. Luscious cake, ladies!
Evening raffle prize of a Boots voucher was won by our president Helen Hall.
Our next meeting is on Wed Feb. 26th at 7.30pm at St. Hardulph School, Main St.
February is our groups birthday and we celebrate with members Mexican food and South American music. All ladies are most welcome.
---
2019
Breedon's WI Supper August 28th
---
Breedon on the Hill WI Christmas visit on Wed Nov .23rd to Tissington Hall.
What a splendid day we all enjoyed.
We all met for morning coffee in the tea rooms in the village before entering the Hall for our pre booked tour of of Christmas festive splendour. The Hall was decked in the theme of "Beauty and the Beast" and the story unfolded room by room in a gorgeous fantasy. The log fire burned and the lights twinkled and we walked spell bound. The billiard room was stunning.
Lord Fitzherbert gave the final end to the story whilst a film crew recorded Anita Manning filming a segment for a future TV programme. An unexpected highlight.!
We decamped back to the tea rooms for a light lunch of homemade soup and mince pies after sampling the gift shop and exploring the beautiful Peak district village.
A perfect start to the Christmas season.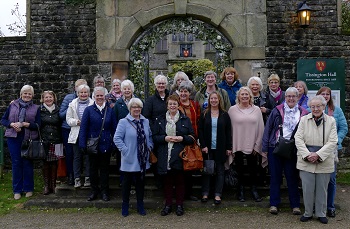 Families and friends of WI members turned out in force to see The Nutcracker at The Royal Opera House, Covent Garden the week before Christmas. Ten masked ladies of Breedon on the Hill WI enjoyed a fantastic day, thanks to the Paul Hamlyn trust. We had a stunning view of the ballet from our first tier balcony seats and everything from the venue to costumes to props was amazing and the dancing was stunning.
In April 2015 the ladies of Breedonon the Hill WI sat and listened very attentively to John Budulis, RoadSafety Coordinator for Leicestershire Police as he outlined the most importantpoints for women to help them stay safe in their cars, when driving, dealingwith tailgaters and parking safely. Thereare over 17 million women holding full driving licences in the UK and almost10% are over 70 years of age; each and every one of us needs to be a bit morecareful, such as check our vehicles especially the tyres more often, join abreakdown service, keep a map in the car and stow our handbags and valuablesaway out of sight even when driving. Hispointers about crime prevention were commonsense but so often overlooked orforgotten. Women are especially vulnerable when returning to parked cars andhis sobering advice made sure we all went home alert and more aware of our car'ssurroundings.
March 2015 saw a fascinating talk by Master Thatcher David Wood who brought with him all the materials for a thatched roof and we had the opportunity to touch a section of finished thatching.
One of our members, Gill Schofield, was placed second for her watercolour entry in the 2015 Art Trophy. The theme for the paintings was a walk in the countryside. She also created a flower arrangement for Northern Lights group which was successful in achieving the Munro Cup at the 2015 ACM held at Leicester Grammar School.
February 2015 February is our birthday month – party time! Here we are doing some Northern Soul dancing lead by aficionado Lou Kyle who explained the history of the music and dance movement originating around Manchester. Also in February, Breedon were runners up in the Long Skittles competition this year. Playing against Loddington WI, the final was a great night out.
January 2015 meeting saw us all practise the set recipe for the 2015 Ashby Show – apricot tea bread. Amazing how they all looked so different from the same recipe! Our resident cookery doyenne, Jane Melen demonstrated some gorgeous dishes.
Skittles final at The Peacock in Loughborough
December 2014 Breedon WI managed to have their Christmas outing actually before Christmas this year! A delicious meal at Breedon Hall and partners were invited too.