Reports and Photos
Billesdon WI
In May we visited Lollipops Pottery on Gartree Road, Leicester, for a relaxing afternoon
painting a variety of vases, jugs, plates etc, and having tea/coffee and cakes.
We found quite a few budding artists amongst our group, and have already decided to
go back for another session just before Christmas, to make Christmas tree decorations.
Centenary of Billesdon Women's Institute
Tuesday December 5th, 2017 marked the 100th birthday of Billesdon WI, and a commemorative Carol Service was held at St John the Baptist Church, Billesdon, led by the Reverend Alison Booker. The Chairman and some of the Trustees from Leicestershire and Rutland Federation were present along with many friends from local WI groups. A birthday cake, mince pies and mulled wine were enjoyed at the end of the service.
On the Wednesday of the previous week, a celebration party was held for 40 friends and guests at the Coplow Centre, Billesdon. After a delicious meal, two previous Members of the WI enacted some of the original poems inspired in the 1920's and later. There was also an exhibition of photographs, programmes, and many other items from over the years.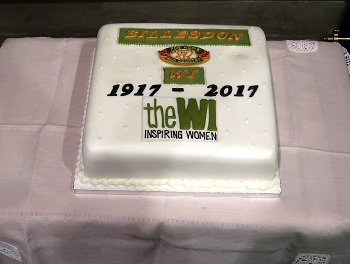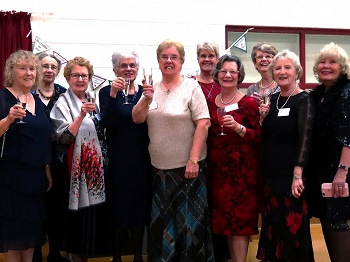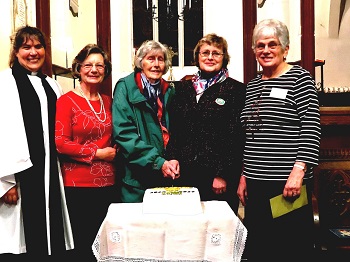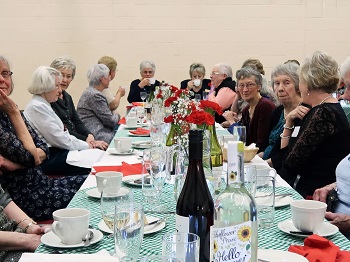 Billesdon Invitation to Radio Leicester
Billesdon WI had a new experience at the end of November! Vice-President Chris Jeffery and Secretary Lois Parker were invited along to Radio Leicester to meet Ben Jackson and go onto his radio programme.
This was because of Billesdon's Centenary celebrations, coming up during the following week. Whilst on air the talk was about the differences and similarities between the WI in 1918 and now, and about how to encourage new Members. Ben was also very pleased to receive home-made biscuits and the recipe from Lois.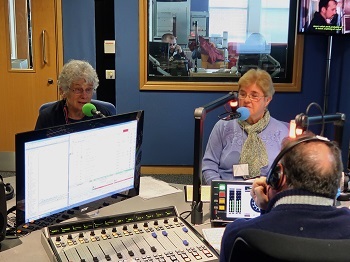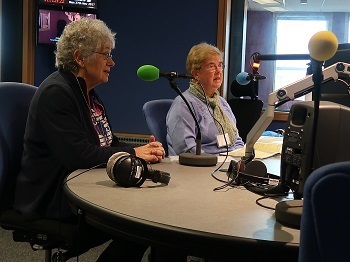 The village now has three new benches for people to sit on, and
Billesdon WI have donated money towards the one near to
The Old School. The Parish Council enabled us to do this so that
we can commemorate 100 years of the WI in the village.
Mrs Sheila Toone, our longest continuous Member, cut the tape
at our small opening ceremony on September 23rd.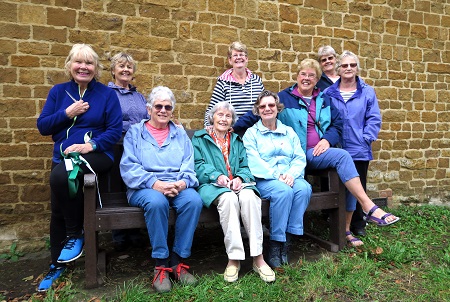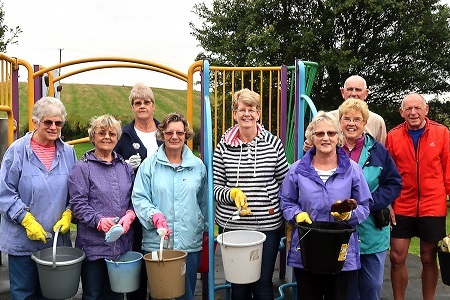 The children's play area on Gaulby Road has had a spring clean – by
Members of Billesdon WI! We were alerted to the fact that the area
needed a clean by two of the parish Councillors, and so we made it one
of our community projects in our Centenary year. With buckets and
scrubbing brushes at the ready, the job was tackled on Sat September
23rd and looks so much better. We were a little disappointed that no
other parents or grandparents turned up to help, as we had advertised
it around the village, but as you can see from the smiles on the
photograph, we were pleased with our efforts.