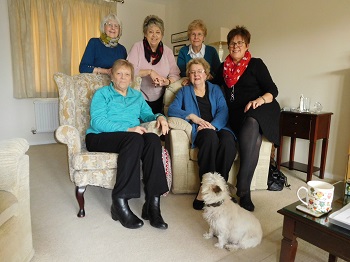 Members of the Fund Raising Committee Rita Caves, Glenice Wignall, Margaret Carter, Susan Woollard, Janet Kavanagh,
Tricia Sykes and Daisy the dog.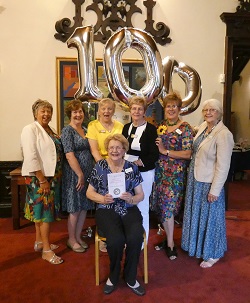 Fund Raising Committee at Beumanor Hall for our 100th birthday
Meetings held as required
Chairman - Rita Caves - Earl Shilton Afternoon WI
Vice Chairman - Janet Kavanagh - Sheepy WI
Secretary - Margaret Carter - Kilby WI
Elected Members
Tricia Sykes - Hinckley Canalside WI
Linda Martin - Thurnby and Bushby WI
Glenice Wignall - Humberstone WI
Susan Woollard - Great Bowden WI
Fund Raising Committee Report 2017/2018
September 2016 saw the Fund Raising Committee organising another Autumn Lunch at Barnsdale Hall Hotel. The event was very well supported and the guest speaker was Colin Alderson talking about his time spent in the Royal Household as head pastry chef. A successful day was enjoyed by all.
At the beginning of 2017 we welcomed Janet Kavanagh and Tricia Sykes to our committee. Both have had fund raising experience and we are enjoying working with them.
At our Spring Lunch in May at Devonshire Place in Leicester our speaker, Ruth Rogers, gave a fascinating talk 'Inside War Horse'. Ruth worked as a puppeteer on the National Theatre's War Horse for four years and she told us about her experiences into what it takes to become a 'living, breathing horse'. Tickets were soon taken up and the day was highly praised.
There are still two other events the Fund Raising Committee are arranging this year and we will also be very busy during our 2018 Centenary Year. It is always a great pleasure for us when our events are well attended and received and we look forward to welcoming you again.
---
FUND RAISING REPORT FROM SEPTEMBER 2018 - AUGUST 2019
Our last event for the Centenary Year saw us returning to Rutland for our Autumn lunch. The guest speaker was Lesley Smith, Curator of Tutbury Castle, giving her costumed performance on Sex and the Tudors. The lunch was very well attended and enjoyed by all.
Unfortunately our Spring lunch in May 2019 at Devonshire Place, Leicester, did not run according to plan. Our speaker, a presenter on the TV programme Gardeners World, failed to appear just before the lunch was due to commence owing to travel problems on the rail network. By a strange quirk of fate, two musicians called Going Back, happened to be preparing to entertain at a later event that evening. Fortunately, they agreed to play for us after our lunch with music from the 60s and 70s. Our Federation Chairman decided that in the circumstances we should give each table two bottles of wine and soft drinks free of charge. The musical session was greatly appreciated and many were dancing seemingly forgetting that the speaker had not turned up.
Apart from our lunches, we like to organise other varied events and in June held
Tea and Song in Hinckley. The entertainment was provided by Debbie Lacey performing Songs from the Shows followed by a delicious cream tea.
We do hope you will continue to support our events. Keep a look out for our varied programme we are working on for 2020 and book early to avoid disappointment.
---