Nailstone WI
On Wednesday 19th October eight of our members went to the Horse and Groom at Queniborough. We met members from Burton Lazers and had a really good Skittles night. It was one of the challenges of the whole WI in
Leicestershire. We all played well. We are sure that sometimes the Skittles move father apart. One of our members, having no luck in getting more than two skittles down with the three cheeses, at the last game last throw she
took her glasses off and managed to get seven skittles down. Wow! Nailstone did win the match and afterwards we all had a lovely supper provided by the Landlord, very nice too. It rounded the evening off and we all went home
having met a new WI. Thank you ladies for an enjoyable evening.
Oadby Beauchamp WI
The photo shows Liz, Edna and Gill from Oadby Beauchamp WI with the over 200 premature baby hats and nearly a hundred triangles,which were knitted by several members. The Leicestera University Hospitals Trust held a knit and natter day for all the knitters in the county knitting for their patients.
The photo also shows a member of the Trust accepting them.
Members who were unable to go but had knitted were Eileen and Carole.
We came away with a new project for next year. This time for elderly patients. Comfort or fiddle blankets which are knitted or crocheted in squares and then securely sewn together. More members may be involved as they are good at sewing.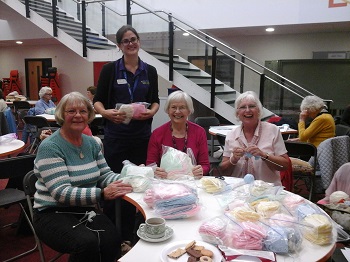 Blackfordby 80th Birthday Autumn Fair
Saturday 4th November
Coleorton WI 50th birthday celebrations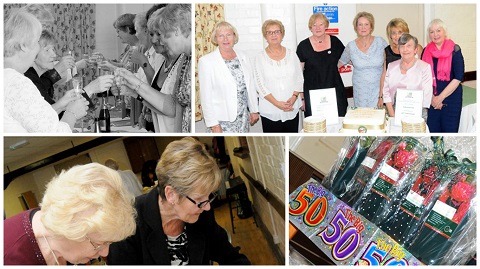 Anniversary Roses were given to each member
84 members raised a celebratory glass